Teeth Whitening Red Wing, MN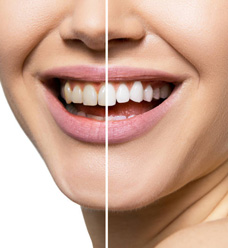 Are you afraid to fully smile because your teeth are dull or discolored?
Unfortunately, over time and due to your eating, drinking and other habits, your teeth can become discolored and lose their shine. Bluffside Dental in Red Wing, MN can help!
We provide teeth whitening services to help make your smile pearly white again.
We offer bleaching and whitening services. Bleaching requires applying actual bleach made of hydrogen peroxide or a similar material to the tooth. Whitening is a procedure that removes the debris and dirt from each tooth.
Whitening and bleaching are the most popular cosmetic dentistry treatments for both men and women nationally.
There are many types of whitening products and procedures on the market, including:
In-office whitening – a quick procedure where the bleach is applied to your teeth for about 10-15 minutes and then removed
Take home whitening – these are provided by the dentist and the patient can do them at home
Over-the-counter whitening – the cheapest option, but may not be the best option as it contains a lower concentration of the bleach
If this is something you are interested in finding out more information or setting up an appointment for your teeth whitening procedure, please give Bluffside Dental a call at 651-388-5492.
For more information on teeth whitening, please visit: http://www.mouthhealthy.org/en/az-topics/w/whitening.